*FYI: Back when Blogger was only used by my college instructors to post the class syllabus, I used a completely different platform to host my original blog.
Oh yes, much to my dismay, I have to admit that I am a former myspace blogger.
Thankfully, over the years, things have changed. As fate would have it, myspace pretty much died at the hands of Facebook, so I dropped blogging for awhile and then somehow last year, I ended up here.
The only sad thing about the transition was that I had to leave my old posts behind.
Until I started resurrecting one or two of them on here.
But there are still many posts lingering in blogger purgatory on my old myspace account. Since things with Bronx are still up in the air while we wait to hear back on some more testing and Kamryn is battling the eye drops needed to cure him of pink eye and I am still on edge with preterm labor issues, I figured another old school post was in order.
And wouldn't you know it, I have one just for the yuletide season.
Enjoy!
Here we are...Christmas is back, and it's time for my favorite holiday tradition, MOVIES!  What better way to celebrate the season than with some timeless classics that you can sit back and relax with after all the presents have been opened and all the leftovers have been eaten.
Hey it beats freaking sledding...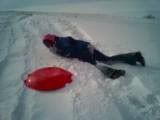 That stuff sucks because snow always finds a way to creep down into your snow pants and then you end up with hypothermia or some other crappy illness.  Merry Elfin' Christmas to that, I'd rather be stuck on the couch with one of Columbia Tri-Star's "home entertainment" products.
So here's getting to the movies.  The traditional favorite of mine, of course, is A Christmas Story.


It basically covers the highs and lows of being a kid at Christmas.  Ralphie, the kid, wants a Red Rider BB gun from Santa but everyone keeps telling him that he's going to shoot his eye out. Poor Ralphie.
It's a funny movie.
But there are things about the film's most classic scenes that I find a tad bit disturbing.
1) Flick's Triple Dog Dare : After a stupid dare, Flick sticks his tongue to a pole in the winter and gets stuck.


This seems to be a reoccurring cinematic theme. Here's another festive classic where someone doing pole-licking eventually gets "stuck":
How on earth did we go from Saved by the Bell to that?
And speaking of naughty things…
2) The Leg Lamp : Who could forget the soft, warm glow of electric sex in the window?
I sure couldn't.

Hmm...kinda reminds me of how scary fake body parts can be, especially when they are assembled altogether to form a sex slave:



Yes, totally strange but true...it's a doll, a "love" doll. Retail Price: $4,050. And that's for one that's never been "used". Oh yeah, you read that right. You can actually buy these things secondhand if you can't afford a brand new one. Either way…ugh, gross.
I still can't believe that there is a market for that sort of thing.
And I think I just killed my Christmas spirit a little.