Due to the fact that whenever I tell people my name is Brittany, I get this dumbass reply: "Oh, like Britney Spears!" and because now everyone insists on spelling my name wrong because of that shit-for-brains bimbo, I decided to throw out a little side-by-side comparsion. Hopefully, this showdown will prove once and for all that I am the better Brittany. (Hell, I even spell it better because I have two t's! Double the pleasure & Double the fun!)


ROUND ONE : WHERE ARE MY SHOES!

Britney: Walks into gas station bathrooms barefoot contracting bacteria in an alarmingly gross fashion.
Me: Walks into any public place with shoes on!
Britney contracts a nasty case of athlete's foot while I remain disease free.
0 points - Britney, 1 point - Me.

ROUND TWO: WHO NEEDS TO HANG OUT IN THE UNEMPLOYMENT LINE?
Federpoon (aka. Mr. Britney Spears): Has no job, but still manages to bring in the goods by swiping Britney's Platnium plastic all over California. (I guess it does require a fair amount of manual labor to reach into your wallet and pull out that credit card.) Oh, and he is working on an album which could be considered as work, except all he does is talk into a microphone (badly) while everyone else at the studio actually does the work.

Matt (aka. my husband): Works two jobs, one full-time and one part-time. Oh, and he has his own credit card that I don't pay the bill for.

ROUND TWO RESULTS:

I wonder who's Visa paid for that gas....and that SUV.
0 points - Federpoon, 1 point-Matt

ROUND THREE: THE SHOWDOWN OF EPIC PROPORTIONS!!
In this round, the criteria is : Which couple looks the least like white trash?

Britney & Federpoon: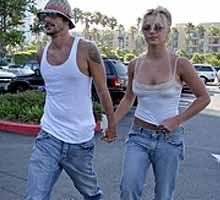 Wifebeaters & three-day old unwashed jeans. However, no one is smoking Camels or drinking Red Bull.

Brittany & Matt:

Ah, a much more wholesome couple hanging out at the dock in matching sweaters. Sailing, anyone?

ROUND THREE RESULTS:
Based on a worldwide poll, Spears & Federpoon = White trash.
0 points total - Britney & Federpoon, 3 points total - Brittany & Matt

FINAL ROUND - THE WEDDINGS

Britney & Federpoon : Held a "surprise" wedding at the home of their wedding planner. Lots of red ("traditional color for streetwalkers", according to Mrs. Doubtfire) and stupid little jogging sweats with "Pimps" and "Maids" on the back.

Brittany & Matt: Held wedding at a church, didn't use red anywhere, and NOBODY had jogging sweats.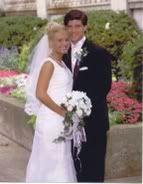 Our wedding may have cost alot less, but I still win because I married someone who doesn't already have kids with Shar Jackson.

FINAL RESULTS: Britney & Federpoon are no match for Brittany & Matt. Start sobbing, losers!
Update: Since I originally posted this blog onto MySpace back in November of 2006, I thought I'd add in some additional rounds to prove why, 3 years later, I am still the better Brittany.
Extra Round #1: The Offspring
Both Britney and myself have two children. All of them are boys, so there is an even playing field for comparison, and since Kevin Federpoon is presumeably the father of both of her kids, I have no compelling arguements in the "at least my kids have the same daddy" category. Boo.
So here's the deciding factor. First a picture of my kids:
Notice the absence of any alarming headlines that might attract the attention of Child and Family Services.
Now, take a look at a photo of the Spears/Federpoon spawn:
Crack is clearly not the breakfast of champions.
If that isn't enough, let me refresh your memory about Britney's well-publicized parenting skills:
She gave Sean Preston his first driving lesson at 5 months old.
She did her car seat installation herself.
And let's not forget the time she almost let the baby go ker-splat.
This stuff is just from the first kid...and that was before she shaved her head or started attacking SUV's with umbrellas.
So, DCFS has never come to our house.
Brittany & Matt : 1
Britney & K-doodle : 0
Extra Round #2: Love & Marriage
Oh, who didn't see that coming?
Still married.
And did I mention that our marriage has lasted 4 years? Double the length of the Spears and K-douche union, which only lasted for 2.
Brittany & Matt : 2
Britney & ???:
Oh, screw the points. I still win. That's why my slogan is:
Better than the other Britney
.